Belfast, Brian Friel Theatre, Queens University Belfast: 17/10/2013 7.30 – 10.30 – a late show .
A fine night with a sell out crowd of 80 with a long waiting list. Bit nervous about tonight as no idea if this works also I'm worried I won't get there on time as have to fly in just before showtime. Meet up with Sally Wheeler Head of the School of Law at QUB who had been brilliant in supporting the project. We go through final bits and bobs. All went well in setup but at 7.30 (showtime) there were only 10 people! We delayed the start and soon the audience appeared, a mix of older NGO staff, the public and students from a number of backgrounds with law being the majority of the student group. (I vox popped them at the interval and after.) In gender terms a slight majority of women present. In age terms a mix of 18-25 year olds, some 30 somethings and a minority in their 40s and 50s. Ciaran O'Kelly turns up unaware he is doing the welcome speech but wings it brilliantly.
After The Well Patrick asks the audience for their reactions– reaction words used by the audience- "miscommunication, lack of ethics, middleman, cultural disconnect, no shock at death, not as simple as this, Is Trevor Evil?, Complex, Is this real, People don suits and it dictates role, power comes from white man in suit."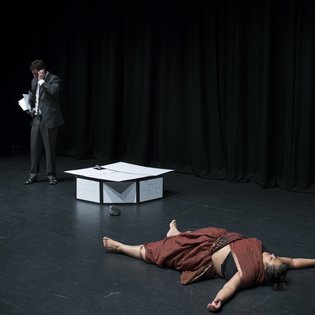 At points the discussion was quite legalistic with arguments about the law breaking out within the audience. Patrick finding it hard to get the audience in the play.
Patrick decided to split The Well interactive forum part so ran The Well, then The Minister, then hotseated the Minister and then The Well (reminded them via stroboscope-Actors do 10 freeze frames of key parts of the well. Audience closes eyes in between freeze frames as actors get in place and PM counts down from five. Audience then views freeze frame and then close eyes again.) Amazingly effective forum tool normally but not sure it worked tonight.
The Well Forum solutions = rip up contract : no! BEW will only come back. Community gathering, Communication, Bassanti stands –they sit.
The Minister: Audience started discussion about general HR obligations of state but one stops this by pointing out this is not govt but private? Is there a HR obligation? Is George right-there is none?
Hot seat: Minister- audience is hostile and cynical.
Becky his assistant also hotseated audience focus on press release and her view – what was in press release? (HR abuse – whose?)
The Trial went straight into speed legislature: Audience split into small groups to identify problems and solutions based on what they have seen then merged into 4 large groups to discuss their proposals and come up with some good clear rules to remedy the problem. Spokesperson then came on stage and put the proposals to the audience who put their proposals and reasons to the audience. The audience then voted by cheering and clapping. Winners got loudest cheers judged by me.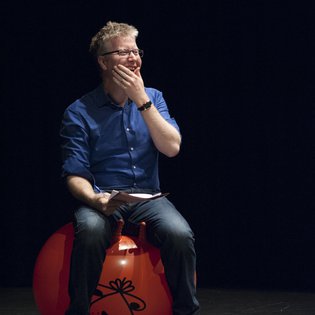 Audience put the following as suggested aims for legislation:
1)Government imposed Company Human Rights (HR) policy
2) Grass roots community empowerment on Corporate HR policy
3) Wealth should not buy influence – Emergency Legislation needed
4) Education of Community, Corporation and Government on HR issues*
5) Water never to be a commodity*
6) Corporate Public accountability necessary
7)Corporations to do culture training on areas of investment
8) Communication always in native language – press and translation on ground
9) Water never to be a commodity*
10) Water never to be a commodity*
11) Global HR obligations for business to be adopted by all states
and companies.
And legislated for * rules. The audience and one group in particular felt very strongly about water commoditisation. Audience very excited afterwards with lots of discussions about the issues.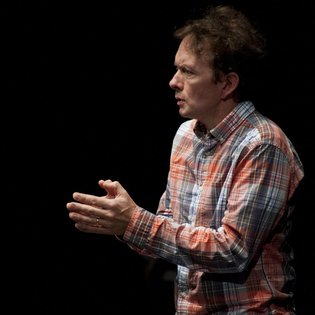 Postmortem that night with PM. Both of us pleased but some fixes needed. I'm not sure splitting well forum worked as momentum lost – revert to original plan. I am also to explain to actors about corporate group structures and how work, HR business and state not same, In the Minister's Press release what's in it: FYI it contains info on death of Basanti Dash, BEW well closure's killing people, BEW security beating up Amnesty International activist.
Belfast on way to Dublin - Morning 18th October 2013 – Horrible rainy day driving to Dublin, we get lost – my fault – stop quickly at my parents house outside of Dublin - tea/sandwiches- no Tayto, still raining. I'm now worried no-one will turn up tonight in Dublin.