Cambridge Festival Of Ideas, Faculty of Law: Saturday 2-5pm 26/10/2013
Our last performance. Sold out as usual. I'm strangely relaxed as most of the logistics of this final performance have fallen on Patrick. Lots of issues in the setup for Patrick as we have no dressing room and actors are unhappy. Patrick v stressed trying to sort out. It gets sorted and all calms down. This room at the law faculty is a seminar room and so flat and not tiered. It's the first time we have not done it in a theatre and so we have to adjust a few things like Basanti Dash not sitting for well scene. Film crew Reeta and Adam are back plus Andrew Wilkinson our photographer for the Cambridge performance. 65 people turn up plus a stuffed toy?? Gender is fairly even but it's the oldest and most "public" audience by far despite the presence of my kids and a sprinkling of teenagers.
The Well: Reaction words: "Bullying, deceit, corruption, lack of informed consent, racism, government corruption, prejudice, lies, chauvanism, smart woman, oppression, loss of rights, profit v life, murder."
What did you feel? Reaction words Injustice, bad manners, frustration, hopelessness, anger, indignation, inevitable, resignation, warmth to woman, rebellion, déjà vu, motives questionable, no values, money.
Stroboscope: audience pick early image when mayor appears: BEW to explain, cost, where water will come from in meantime?, Translator gets in scene (cockney accent), how much will it cost? Translate contract.
Patrick asks what has changed? More power to BD, information, not inevitable, knowledge, get lawyer, public forum = safety, consultation better, informed consent nearer, humanised the siutuation, process, what value a signature in a world where she can be shot? Is she elected?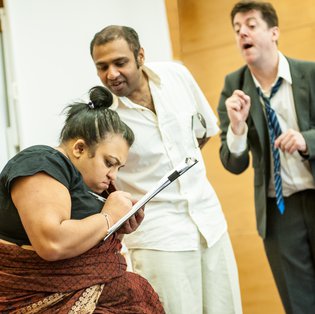 The Minister: (It's apparent the Audience really listening carefully compared to other audiences. Lines that were missed in other performances getting reaction here.)
Reaction Words : What did you hear? Bullying, red tape, bribery, realistic, legal, Human Rights, morally, confused, british business, british interests, legally, don't understand, commodification.
Hotseat George: Will you say sorry? Profits not shareholders, Say sorry, transparency, moral.
Minister: Do you have power? Cover your ass, Human rights policy? Party funding, Human Rights policy.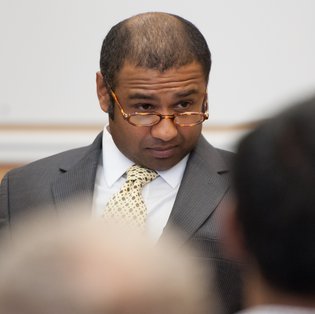 After Hotseat: Audience Reaction = All happening so fast: who's accountable collusion, real, brit v non brit, shareholders v ethics, profit.
After break PM does BEW images with small groups. Again this is brilliant.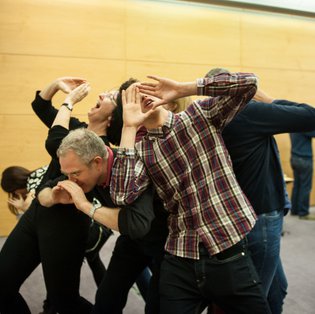 The Trial:
Audience interrupt at same point as last three nights. Same result. PM intervenes and opens it up. Actors gone. PM having to work very hard to get audience into scenes - audience happy to be articulate observers.
Arguments break out: BEW contract says Indian law, where democracy, ECHR??, breach of contract, nice intervention and we are all called as witnesses to well scene, fix in india, UK govt role? Employees? Ends Unresolved and we move to speed legislation.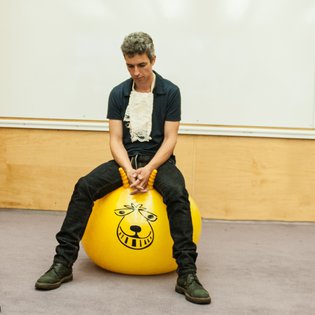 As before group work and Speed Legislation ensues: Speakers from each group come forward and have 1min to explain their proposed legislation then when all have done they do a 10sec reprise and legislation voted on by clapomiter. List is:
1)More responsible companies enforced by no limitation of liability.
2)Multinational HR regulator for business.
3)Education is the answer both in developed and developing world.
4)Water never to be a commodity and supplied by state.*
5)Affected communities always to be consulted and empowered by law.*
6)Water never a commodity
7)UK government to respect Human Rights everywhere.
8)Education, Education Education.
9)Law everywhere protects Human Rights and external body audits.
10) Empowerment through education
And legislated for * rule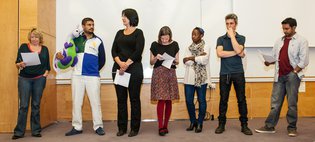 An articulate audience but slightly reluctant to get involved in action. PM knackered at end. The Actors frustrated with stops as audience don't let it run with suggested action. Interventions galore as they keep shouting stop. The end is hurried as audience need to be away so not enough time to say thank you to everyone.That's showbiz I guess. Security bit nervous of us as we have spacehoppers plus a gun, so pushing us to get out of law faculty. It's all over. Time to sleep - wait... no I need to write this Epilogue.