London, Queen Mary University of London, Drama Studio Thursday 24/10/2013 6.30-9.30pm
Familiar territory at last as all or rehearsals were at QM but this is our first performance. During the day we work on difficult hotseat questions for Shane and Rena which goes well. Getting into the drama studio is a bit fraught as we can only get in to set up 30min before performance time but it all goes well with help from Julian Deering from the Drama Department. Show starts on time. Audience is a mix of ages and gender but the majority are U25 year old QM students from a mix of law and non-law subjects. The rest are a mix of NGO workers and lawyers. Chris Redgrave our photographer is here tonight and Morag Shiach the QM Vice Principal and Executive Dean for Humanities & Social Sciences who is right in the centre of the action all night.
The Well: Reaction words: injustice, lies, miscommunication, manipulation, shot, well closed, contract signed, discrimination against women, life lost, consent, inequality.
PM asks audience where they would intervene: response = signing, when BEW man comes on, before pull trigger, before scene begins.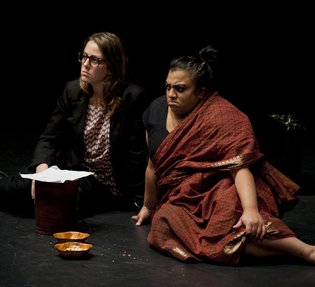 Stroboscope: Audience choose signing scene, forum begins - interpreter put in scene (terrible cockney accent – she is Italian as it turns out), balance of power changes with BD advised by interpreter, all sit (as in other performances Mayor resists), remove bonus, include community, mayor replaced but no solution reached.
PM asks for Reaction to forum: frustration, power, disrupt.
The Minister: Reaction: Party funding, HR of other countries nationals?, spin, tortured, UK/Non Uk, subsidiary cos not responsible.
Hotseat questions to: Minister: HR policy – was he aware? (shane discusses changing the policy) Does he care about non-brit citizens?
Becky: does she trust her boss (it's his first day), HR policy, press release.
George: Are you worried? How many journeys to india last year? Are you liable? Will Orissa affect profits?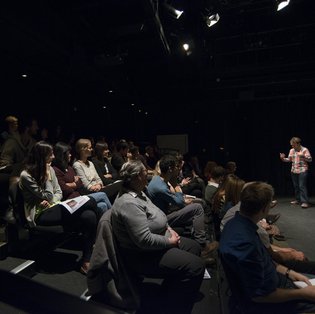 Again tonight we move to small groups and do images of the BEW group of companies: Again some are amazing complex and beautifully expressed.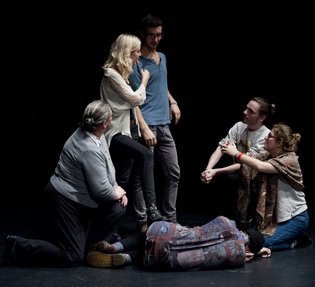 Break for 20 min then into Trial scene.
Unusually a woman shouts stop and get in scene early as Indira but the scene goes on regardless. She seems powerless to stop. Rena in again, Dutch transfer questioned, BEW switched out then all switched. Drama student in role as Indira gets angry and emotional and is criticised by law student in audience and advised to keep emotion out of it. Drama student (Finn) replies ' all I've got is my emotions, its how I feel, this is so wrong, I haven't got the words.' Student argues the situation should be interpreted morally, discussion on whos morality breaks out. Law morally neutral? Illigitimate forum agument run. Judgment decides to refer back to Indian courts.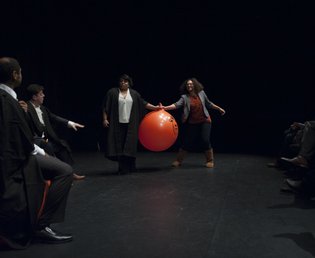 As before Speed Legislation ensues: Speakers from each group come forward and have 1 min to explain their proposed legislation then when all have done they do a 10sec reprise and legislation voted on by clapomiter. List is:
1)Better legislation on business govt transparency – people need to know.
2)No limitation of liability for companies.
3)UK HR standards to apply everywhere*
4)Transparancy when Cos operating in other countries
5)External binding HR monitor needed for companies investing in developing world.
6)Business and community legally bound to HR compliance.*
And legislated for * rules.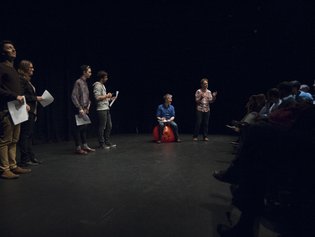 At end audience very buzzed up.
Postmortem: Again we discuss the inspiring aspect of things as we don't quite know what's inspiring about what we are doing? We are getting better but PM not happy overall yet, as he wants to push the audience more. Need to push them more to suggest actions rather than questions or statements.
London Queen Mary University of London Drama Studio, Friday 25/10/2013 6-9pm
The second night and our youngest audience by far. Only one person over 25 and she left at the interval (work). Mostly a mix of QM law and non law students both from QM and elsewhere. Law students are a mix of Human Rights and commercial specialisms. Roughly gender equal.
The Well: Reaction words to Patrick asking What did you see? "Murder, fraud, unfairness, coercion, external forces, consent, escalation, injustice, lack of knowledge, law."
What did you feel?" Divided, angry, sad, helpless, pity, selfishness."
Stroboscope: PM pushes for action suggestions only in forum part of The Well: change contract, sit, translate, horrific, share nuts, change rules, use pictures to explain to community to overcome language barrier, communication, informed consent, alternative water source, set target, get information, how does Trevor feel? what is cost of water?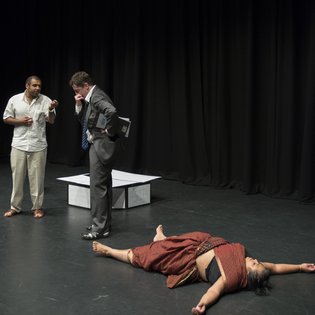 PM who has power here? = Mayor – woman.
The Minister: Reaction words? Legal not moral, political, don't understand, UK/non-uk, UN principles.
Hotseat: George says "water is a commodity, affordable, don't judge me, law, legally not responsible, no one from India, influence."
Reaction to George: "People must be central, makes me angry, legal chain of no responsibility, isolate risk, pass blame."
Audience very angry/passionate about the scenes at break
After break PM brings groups on stage to do BEW Corporate chain Images. Again what they construct is amazing. My thoughts on seeing images– (complicated –integrated-tangled-irresponsible-distance-victims-hierarchy-power)
The Trial: Intervention from the audience occurs at same point as Thursday and again it fails to achieve anything. Audience seems to be getting increasingly angry. President and Indira replaced – "contracts illegally obtained, coersive, vested interests, reckless." All three actors gone now. Woman who takes on role of lawyer for India government gets really angry 'I wasn't angry when I was in the audience but now I'm up here I'm furious about this situation' - BEW and India need to agree affordability in her view. However, soon all three seem to fall into roles they can't escape by end.
Audience seem very angry one woman says 'this whole situation is disgusting everyone here is a bad guy where are the voices of the people?'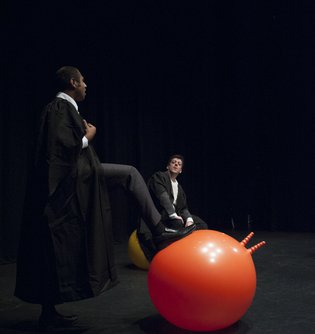 As before Speed Legislation ensues: Speakers from each group come forward and have 1min to explain their proposed legislation then when have done they do a 10 sec reprise and legislation voted on by clapomiter. List of proposed legislation is:
1) Binding international law on transparency and community consultation for investment in developing world.
2) Strict multinational and state liability for HR compliance.
3) More moral laws and trust government.
4) Proper consultation with affected communities legally required*
5) HR breach rescinds contract and imposes criminal liability.*
6) HR standards legally enforceable.
And legislated for * rule.
At end audience very angry even after the speed legislation. Patrick asks how they feel at end: Reaction words: "conflicted, thoughtful, frustrated, have to try to fix, angry, distressed, unresolvable, can't change."
There is a sense in the room that anger and frustration prevail and so myself and the actors run through the scenes to explain the real issues behind what they saw. I did this as I felt this group needed something more - some direction for the anger etc. I gave a not quite inspiring enough speech at then end and afterwards discussed the issues with the students. One repeated concern was they could not change things, the world was as it was, indeed as my rubbish generation had made it and they would take on roles like in the scenes even though they would not personally choose to behave immorally. I make vague noises about being the change you want to see in the world but am a bit depressed by both their anger and frustration. PM meanwhile is arguing gamely with HR lawyers that that the law needs to be morally centered.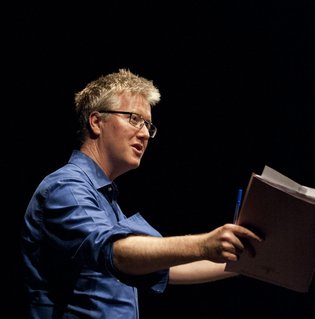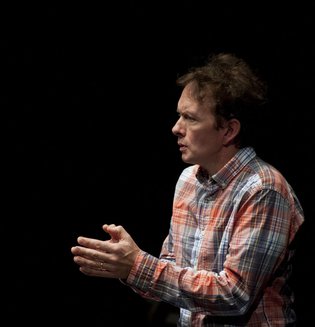 Postmortem: PM and myself discuss how affected we were by tonight's young audience. PM poses question of our responsibility to them in presenting these issues and wheteher we owe them something more. I'm finding it hard to deal with both the earlier inspiring effect and now this depressing effect as I had been focused on this project being about informing the public about Business and HR issues and finding solutions, not the emotional effect it might have on the audience. PM and myself discuss what we could do to offer direction – join amnesty, join a political party - small changes in your own world – all seem a bit lame. I feel strangely like tonight was the best event but also the most puzzling and unsatisfactory one. On to Cambridge and our final performance at the Festival of Ideas.