Dublin Evening Bewleys Theatre Grafton Street 18 October 2013 6-9pm
A horrible relentless rainy day that turns nastier by evening. I am really very worried about who will turn up. Theatre in Bewleys is fantastic – intimate and perfect for forum theatre.
Colm the theatre manager produces a real gun instead of a fake one. Everyone checks it's empty before we use it. I desperately need Tayto crisps. Buy Tayto for everyone but forget about Ash our technical director so I give him my Tayto. Too rainy to get more. Steal some of Rina's Tayto. Feel bad.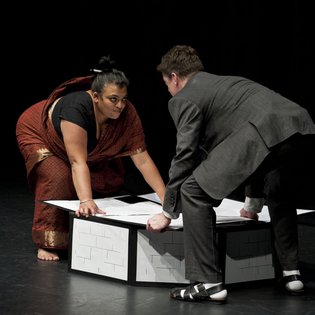 Meet up with Blanaid Clarke (School of Law, TCD) and Imelda Maher (School of Law, UCD) who have been our supporters and organisers on the ground in Dublin but I have to run away to check all is in place. Audience turns up on mass and place is packed and buzzing beforehand. Mix of law students, academics, NGO, business community and general public (schoolteachers-financial services). An even mix of gender. In age terms the audience has a majority of 17-25 year olds but a large minority group of 30-40 year olds plus two senior citizens (My parents).
The Well: Reaction Words used by audience: "Harrasment, contract, abuse, ignorance, communication, corruption, she hardly mattered, consent, informed, legal is to legitimise abuse, information, water commodified, make alternative arrangement for water while well fixed, all sit down please (behaviour better when level relaxed) give her information, translator, cultural gap, genuinely engage, problem is not rules but individuals who need to behave better- answer is education."
Lots of discussion PM lets it run on and time is running short for The Minister. I can't seem to signal PM to move on.
The Minister: Hotseat George: emphasises chain of corporations and legal position, policy complex, education in language and culture. Audience frustrated at legal responses and find it hard to get moral response from George.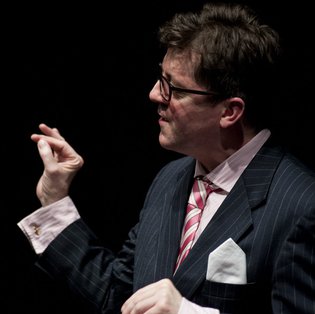 The Trial: PM stops it during first run and lets audience in. We had not rehearsed this and I am caught out and scared, actors too. Woman is so outraged by The Trial she launches herself into scene fighting off the President. Others take over and actors ejected from scene. Great stuff. Interestingly each spectactor (an Amnesty International activist who takes on lawyer role for BEW, EU law Professor takes on President role and a student acts for the Indian Government) takes on predetermined role and the company BEW gets 100 million compensation. They seem unable to fight off their roles. Really interesting.
Countdown disco judgement scene in The Trial by spectactors is great moment.
As before, Speed Legislation then ensues: Audience puts the following proposals for change:
1)Interests of affected community must be central to the contract and governmental process.
2)State and multinational Corporations to have HR responsibility in all contracts.*
3)Legislation to enforce UN HRC Business and HR guidelines.*
4)More campaigning by NGOs to raise public/consumer awareness of business and HR issues
5)Access to water always
6)NGOs represented in decision making by companies and government.
And legislated for * rules.
A really great night. Audience very excited at end and again lots of discussion afterwards about issues and the potential of forum. I mislay all my notes from Belfast and Dublin but Ash picked them up as we left the theatre- phew panic over. Mulligans afterwards. Finally some Tayto of my own.
Post Mortem PM/AD. AD to signal timing to PM so we keep to timeish. The Trial scene worked well with PM intervention. Some lines need work. Also how wierd was it that the audience replace the judges but produce same outcome as if actors had stayed there and run through script. This needs some thought.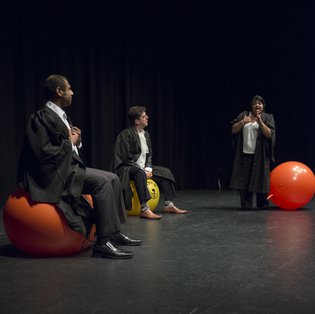 Back to London. Monday 21/10/2013 Rest Day.